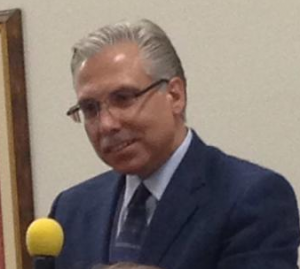 Convention Banquet Prophecy
By: Philip Cappuccio
Saith the Lord unto My People, even as you have gathered year after year to commemorate and celebrate My goodness and My faithfulness, I have determined saith the Lord, to come and touch you in a fresh way in this gathering. I shall be unto My people as a refreshing strength, I shall be as it were a refreshing cloud. I shall refresh and I shall strengthen, I shall come in a new and in a fresh way and thou shalt come and meet with Me and I will encounter My people.
For even as it is in your heart to commemorate and to celebrate it is in My Heart, saith the Lord, to gather you up unto Myself. I shall mark thy life and I will return and you will say, "The mark of the Lord hath come upon me." And I shall cause you to see more clearly and I shall even be as Joseph was to his brethren. For did he not put gold in the sacks and did he not put within them a full measure for their journey? And I shall put gold and I shall even impart unto My people so that when you return from this place, you will discover that the Lord has given us more for our journey, if you will be but an expecting people and if you will be a people that will more than celebrate that which I have done. But if you will come with open and expectant spirits, I shall pour into you and you shall leave this place ready to be poured out in a fresh way to a generation and to a culture saith the Lord that is thirsty and is hungry.
For I desire to rain upon this Nation. I shall create for Myself bright clouds, thou shalt become the clouds of the Lord. It shall not be said of you as it has been said of many, for they are clouds in whom there is no water. But if you will drink my people even these days, if you will drink to the full, then thou shalt leave from this place saying, "I have gone and I shalt now pour out in a fresh and in a new way," And so more than a celebration, there be a holy encounter and I shall mark thee, I shall refresh thee, and I shall send thee, saith the Lord.

Welcome To Our Church Website
On behalf of the ministry and members, we want to welcome you and take this opportunity to thank you for visiting us.
Our desire and goal is to help people come to the knowledge and saving grace of our Lord and Savior Jesus Christ, so that they can become doer's of His Word, and be transformed into His image and likeness, as explained in our statement of faith.
We hope it is an enjoyable experience for you. Please feel free to explore the entire website as there are many informative pages about who we are and what we do. Also, stop back from time to time to see our ministry continue to grow, as well as the content contained in this website.
If you have any questions that you would like to ask us, or if you would like to receive additional information, feel free to contact us, or email us at info@ccwo.org. We would also like to invite you to attend one of our Worship services or Bible studies.
Worship Services
Sunday Morning . . . . . . . . . . . . . . . . . . . . . 10:30 a.m.
Sunday Evening . . . . . . . . . . . . . . . . . . . . . . 6:00 p.m.
Wednesday Bible Study . . . . . . . . . . . . . . . 10:30 a.m.
California Bible University
Monday Evening . . . . . . . . . . . . . . . 7:00 - 9:00 p.m.
Tuesday Evening . . . . . . . . . . . . . . . 7:00 – 9:00 p.m.
Wednesday Evening . . . . . . . . . . . . 7:00 – 9:00 p.m.
Thursday Evening . . . . . . . . . . . . . . 7:00 – 9:00 p.m.